SMB Hacks: Five tips for finding the right digital payments solution
Want to grow your business? Think outside the cash box.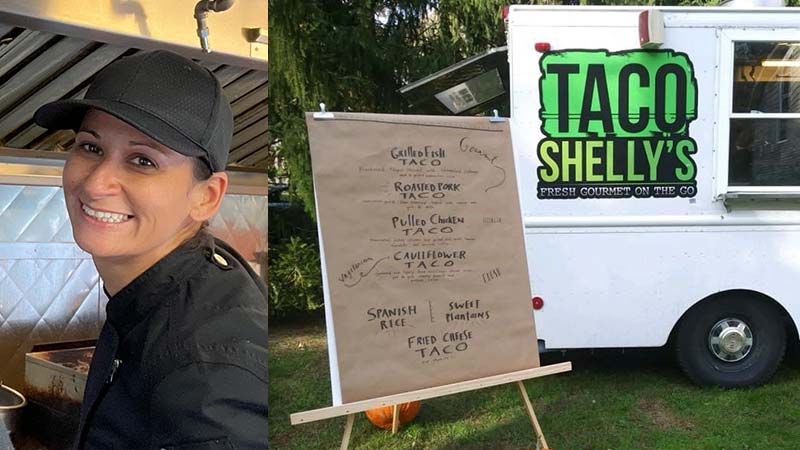 Freedom, work satisfaction and flexibility are just a few of the many reasons small business owners take the leap to follow a dream. Rachelle Gonzalez, founder of Taco Shelly's in Bethlehem, PA, had reached a turning point in her restaurant career. Her role in management left her feeling dissatisfied, often frustrated. She missed the camaraderie of the bar and being responsible for her own work ethic vs. that of others.
"Since I was a kid I wanted to own my own business," she said. Her passion for food and service led her down the path of owning a food truck. First, there was finding the truck, creating an innovative menu and establishing her brand. Then, when she was ready to launch at her first food festival, she wanted to make sure she could fully capitalize on the hungry crowds by accepting digital payments.
"I wanted to allow my customers the flexibility to pay anyway they wish," she said. 
As her business grew, and more and more customers reached out to her to cater private parties, she needed a way to accept payments over the phone. 
At first, she just went with the first solution she found, which charged high fees and locked her into a multi-year lease. "I wish I had shopped around first," she said. "I just didn't know."
As the world becomes increasingly digital, small business owners like Gonzalez are embracing new forms of technology to meet changing consumer behaviors. According to the latest Visa Back in Business Global Study: 2022 SMB Outlook, 96% of consumers said they will continue to use digital payments as much as or more than they did in 2021. And with 41% of consumers abandoning purchases when digital payments aren't accepted, it's no surprise that 73% of surveyed small and micro businesses (SMBs) see accepting new payment forms as fundamental to their growth.1  
Looking for the right digital payments solutions for your small business? Here are a few ways to find the best fit.
1. Shop around for competitive rates
Credit card processing providers charge fees for their services, like monitoring for fraud and verifying that your customer has sufficient funds available in their account. Decide how you will accept payments and then shop around for the provider with the best rates for your business. Will you take payments over the phone, in person, online or all of the above? Find a provider that offers the best rates for your business based on the transactions and payment types that you'll be processing most.
2. Consider your POS (point of sale)
Research the types of hardware out there, such as a cash register, tablet or dongle, a small card reader that you can plug into a mobile device. Are you running a mobile business like a food truck or home contractor service? A small card reader may be the way to go. Are you opening a brick-and-mortar where mobility matters less? Then a cash register or tablet may make more sense. If you're thinking of ecommerce, find a payment processor that easily integrates with your website. Most POS systems consist of hardware and software, which can help you record, store and analyze your business information so you can focus on what you love to do most.
3. Open a merchant services account
Establish yourself as a merchant by opening a separate business account from, say, your personal bank accounts. A merchant account is a special type of bank account that allows your customers' money to flow through the card processing system into your business bank account. You might be able to set up merchant services with your bank, an independent sales organization (ISO) or an all-in-one payment services provider.
4. Set up your terminal
If you're opening a physical location, order and set up your hardware to allow you to accept payments via swipe, chip and tap to pay in person. Contactless payments are on the rise, according to a 2021 Visa study, and something to consider to future-proof your brand. For e-commerce businesses, you can work with your ecommerce platform to coordinate how to accept payments. Your credit card processor can also provide any necessary technical support. 
5. Make time for training
Making money as an SMB owner is exciting; creating the infrastructure to accept payments? Not so much. But it's worth taking the time to understand what makes your hardware and software tick. Look into training resources with your provider to understand how to make your POS hardware and software work best for you. 
---
For more information about programs available to small and micro businesses, visit the Visa Small Business Hub.
---
1 Back in Business Global Study: 2022 SMB Outlook